For later identification, please enter a meaningful own name for the product (e.g. "Brand name black neck label").

Label types, folds and sizes


no fold

Centre fold
Note: By default, we will add two sew-in borders of 10 mm to all labels having a centre fold. This does not influence the price. If you do not want these borders, please mention it in the remarks field at the end of the label configuration.
Possible dimensions of the selected product: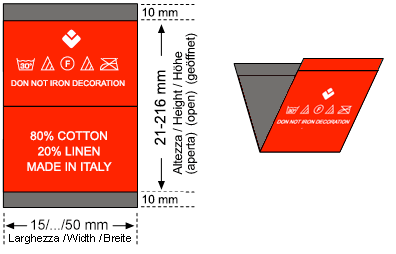 The red area without borders or end folds define the width and height to be entered below. For all centre folded labels it is the visible surface of the opened/unfolded label without end folds or sew-in borders.

Please enter the dimensions of the red area shown above.
Width: mm Height: mm ( in inches: " x " )

Please select a material
for sew in/on

pieces
Split labels: up to 6 variants at the same price [ info ]

Note: For quantities above 100,000 pieces please contact us. We will then submit an indiviual offer.

Please select the number of colors including background first.
colors in total (incl. background)
...and then click here to enter the single colors
How do you want to proceed?
Upload a file
Design the label online (for rectangular shapes only)
Please enter remarks, possible descriptions of variants, instructions for the production or other important facts here.